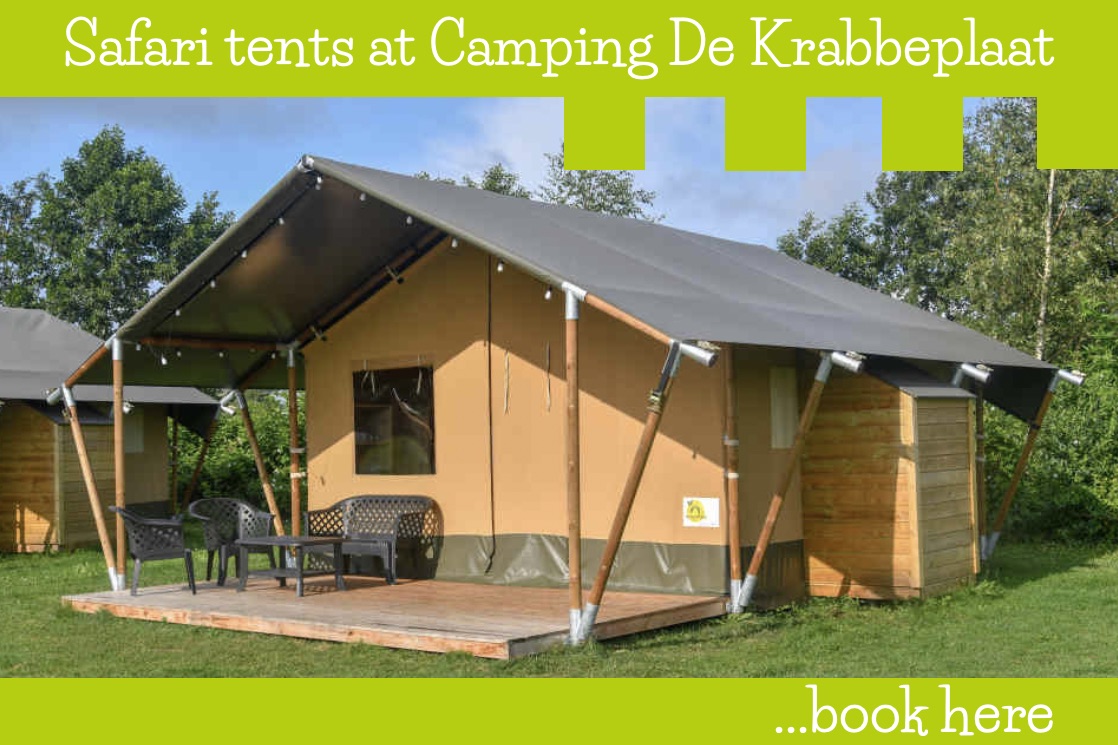 New at Camping De Krabbeplaat: 6-person safari tent with its own toilet and kitchen.
Would you like to rent a safari tent at our family campsite? At De Krabbeplaat you sleep in a safari tent for 6 people as standard. With a floor space of approximately 40 square meters and headroom throughout the tent, you will have no shortage of space. The front of the tent can be opened completely, which is very pleasant when the weather is nice. There are two sleeping cabins in the back of the tent. One sleeping cabin has two bunk beds and the other sleeping cabin has a double bed (140×200 cm). In our safari tents with toilet, a private toilet is built into the tent. That way you don't have to go outside at night if you need to. Find the rental rates here.
Playground and water spray park are a short distance AND you can use the showers in the sanitary building nearby for free.
Rent your safari tent here - Price list with rental prices - Inventory Safari tent - Or call +31 181 412363
Cooking and sleeping in a safari tent for 6 people with toilet.
The safari tent for 6 persons with toilet has a permanent kitchen. The kitchen is equipped with a four burner thermally protected gas appliance. In the kitchen cupboards you will find crockery and everything you need to cook well. Other conveniences include the refrigerator, coffee maker and kettle. An important feature of our safari tent for 6 people is the awning, so that you can still sit outside even in bad weather. Under the awning is a lounge set with a low seat and in the living area a high table with chairs that can all be easily moved.
Inventory of a safari tent for 6 people with toilet.
There is a private toilet in these safari tents. There is hot and cold running water in the kitchen, electricity and lighting in the sleeping cabins, living area and under the awning. There is also a refrigerator, coffee maker, kettle and a stove. Of course there are standard pillows and duvets available in the safari tent for 6 people. A sheet package must be booked for € 8 per sheet package. It is also possible to book a baby package (high chair + camping cot) for € 2 per set per night. Pets are allowed. The rate for a pet is € 5.00 per night.
Rent your safari tent here - Price list with rental prices - Inventory Safari tent - Or call +31 181 412363